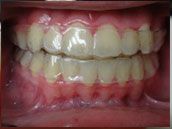 Minor tooth movements can be accomplished though the MTM ® clear aligner system, which uses a series of Essix retainers to gently move your teeth into their proper positions. Our orthodontist can use this system to achieve minor movements such as rotations and other small changes. Adjustments are made to these retainers at your regular appointments.

MTM aligners are made from impressions of your smile. These aligners can be used to address small issues regarding teeth that are crowded or crooked. The next retainer in the series is prepared when all of the movement needed from the current retainer has been accomplished, and new impressions are made with eat set of new Essix retainers for the MTM system. While these retainers are limited in what they can accomplish, they are a happy middle ground between braces and Invisalign® treatment.
MTM aligners are comfortable to wear, and they can be easily removed for meals and cleaning and allow you to straighten your smile without the look and feel of traditional braces. As with the Invisalign® or other clear aligners, they must be removed to eat and must be cleaned before putting them back in your mouth.
To make a minor adjustment to your smile with MTM clear aligners in Sunbury and Centerburg, Ohio, call Renick Orthodontics at 740-936-5003 and a member of our team will be happy to schedule you for your appointment with Dr. Michele Renick.